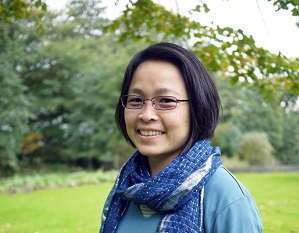 Chen Thou Lin – Counselling Psychologist
---
I am a chartered Counselling Psychologist of the British Psychological Society (BPS) and a member within the Society Special Group in Coaching Psychology and a registered Counselling Psychologist with the Health and Care Professions Council (HCPC) in the UK. I am also a registered PSYCHOLOOG NIP with the Dutch Association of Psychologists (Nederlands Instituut van Psychologen, NIP).
I was born in Taiwan, was trained in UK and am now living and working in Holland. 15 years ago, I have started working psychotherapeutically with adults, children and young people within the health, education and voluntary sectors. I have worked with a broad variety of difficulties, ranging from depression, anxiety, burn-out, relationship issues, stop-smoking, work-related issues, and issues in life in general.
My work is existential phenomenologically based, but I also apply other therapeutic approaches, i.e. Cognitive Behavioural approach and Psychodynamic approach, if necessary.  I approach client as a whole person, rather than an illness or a problem: a client is a person who has decided to come to share and to work on his or her difficulties with a therapist. It is my belief that during the therapy both client and therapist can grow and learn from the therapeutic process.
Due to my multicultural background and experience, I am keen to work with expats or people from different backgrounds. I speak Chinese, English and Dutch. Besides face-to-face psychotherapy, I offer internet counselling and personal coaching on a worldwide basis.
Research has shown that Chinese immigrants have difficulties in accessing mental health care in Holland due to language and cultural barriers and not being familiar with the Dutch health system. Therefore, apart from working as a therapist, I also see myself as a mental health advocate. I would like to help people, particularly Chinese or Chinese immigrants in Holland finding their way in the Dutch mental health care system. I also give workshops on different issues, i.e. self-development and cultural and adjustment issues.
Email: info@epictherapy.net
KvK-nummer (chamber of commerce number): 59321024